Menard Embellir Washing - Anti-aging Facial Wash 122ml
ANTI-AGING - SKIN CELL RENEWAL
Intensive Anti-aging
Cleansing foam that wraps skin like a moisture film
Makes the skin velvety smooth
Clings to skin and cleanses it with its dense elastic foam
Clearer Complexion (Treats Acne and Blemishes)
Whitens the skin and eliminates dark spots
Anti-aging efficiency - Lifts sagging skin
Erases fine lines and wrinkles
Are you looking for a 'Washing' cream cleanser, which can do away all your make-up and impurities without stripping your skin of moisture? Yet, a cleanser that leaves your skin moist and supple for hours? Menard Embellir Washing cream cleanser is the solution to all your quests, that foams to luxuriuos divine creamy lather with the finest quality making make-up and impurities removal such an easy job. Its dense elastic foam also kills dead skin cells, preparing your clean and clear skin for the absorption of moisture and ready for next treatment.
Rich and creamy lather with the finest quality takes away all the impurities and yet leaves the skin highly moisturized. Cleansing foam that wrap skin like a moisture film, making it velvety smooth.

Product features:
Easily removes make-up and impurities

Intensely and durably hydrate the skin

A rich texture for a high comfort
Bring firmness and suppleness

Soft with your skin but tough with impurities
Restores skin suppleness
Acts against aging symptoms, result in velvety smooth skin

Improves the absorption of the next treatment items
Its dense elastic foam clings to skin and cleanses it gently
It conditions skin to prepare it for the items applied after
Leaves skin well-conditioned and moist after washing by enveloping it with a film of moisture
Black Reishi Extracts: prevents genes aging and extends cells' life by revitalizing them. Red Reishi extracts and BRG-N ( Bifidobacterium Longum Repair Gene): repair the DNA damaged by UV rays and free radicals. Permeates skin with a melting sensation and makes skin feel richly moist and bright from inside.

This product uses "Moisture Layer Emulsion", which imitates the layered structure of the intercellular lipids of the horny layer. Ceramide*1 (moisturizing ingredient), the main ingredient in the intercellular lipids, cholesterol (moisturizing ingredient), and phospholipid*2 (emulsifier) are densely arranged by layer ingredient*3 (emulsifier) to form a layered structure. In addition to providing moisture-laden comfort with a rich, thick texture, it protects a moist feeling by creating a moisture layer similar to the intracellular lipids on top of skin after application.
100% MADE IN JAPAN. Every step entailed in developing Menard products is done in Japan—clinical research, ingredient sourcing, product development, manufacturing, and packaging—utilizing their advanced technology and keen eye for perfection.
Water (Aqua), Myristic Acid, Palmitic Acid, Glycerin, Potassium Hydroxide, Diglycerin, Sodium Cocoyl Isethionate, Methyl Gluceth-20, Maltitol Laurate, Glycol Stearate, PEG-32, PEG-6, Fragrance (Parfum), Oryzanol, Potassium Laurate, Potassium Myristate, Cocamidopropyl Betaine, Hydroxypropyl Starch Phosphate, Butylene Glycol, Alcohol, Pentasodium Triphosphate, Pentaylene Glycol, Sodium Choride, Polyquaternium-61, Magnesium Ascorbyl Phosphate, Sodium Surfactin, Sucrose Laurate, Tocopheryl Acetate, Cholesteryl Hexyl Dicarbamate Pullulan, Sodium Hyaluronate, Ganoderma Lucidum (Mushroom) Extract, Ganoderma Sinense (Mushroom) Extract, Ceramide 2, Hydrogenated Lecithin, Methylparaben, Phenoxyethanol, Soluble Collagen, Ethylparaben, Limonene /J658
Red Reishi Extract and Black Reishi Extract (Moisturizing ingredient)

Coolest Extract (Skin conditioning ingredient)

Maltitol Laurate, Surcose Laurate (Cleansing ingredient)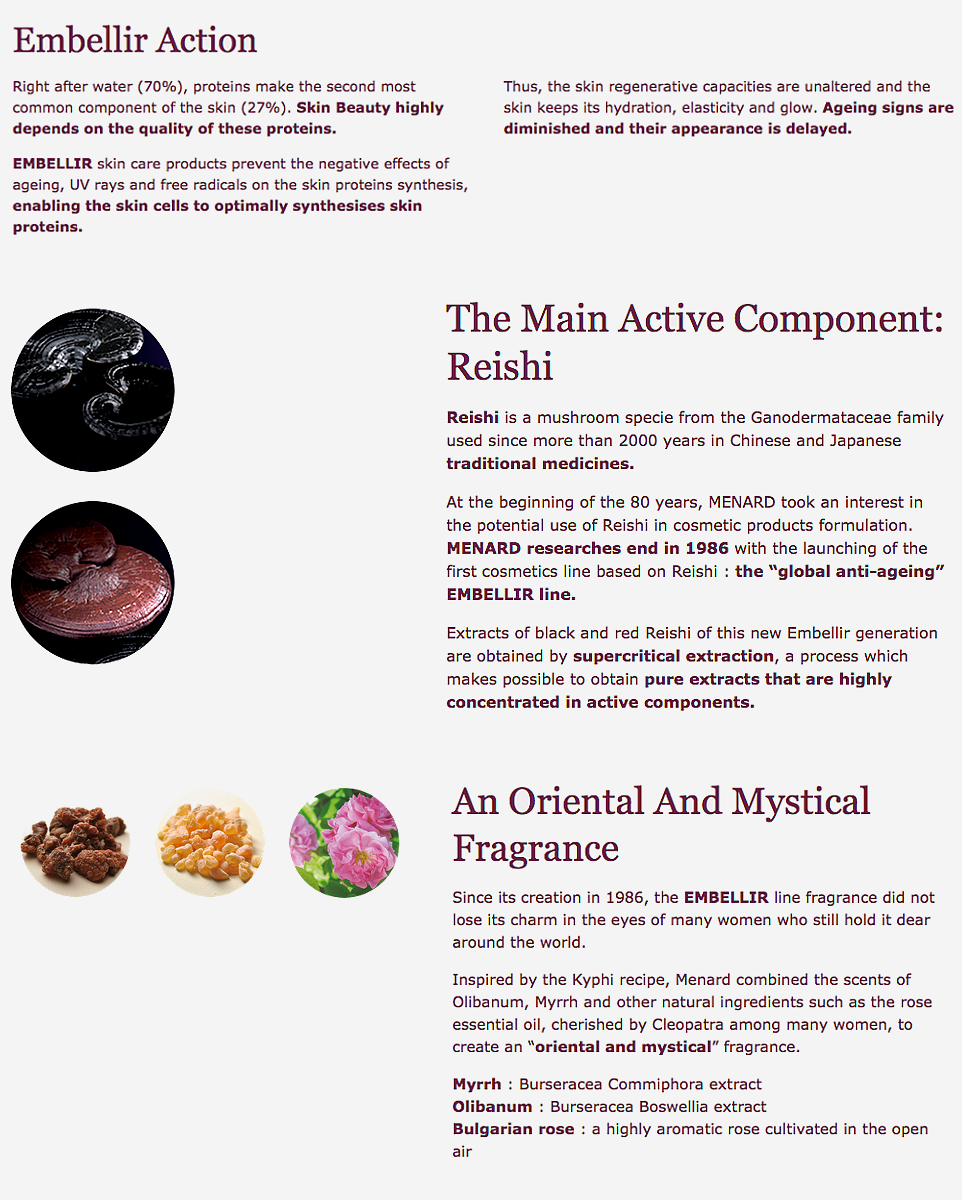 Benefits of Authentic Menard Embellir Washing.
The skin is smooth, bright and moisturized
Intense Anti-aging
Lightening/Skin Whitening (Whitens complexion)
Restrains melanin production
Clearer Complexion (Treats Acne and Blemishes)
Whitens the skin and eliminates dark spots
Anti-aging efficiency - Lifts sagging skin
Erases fine lines and wrinkles
More Uniform Complexion (Dissolves clogged pores)
More Moisturized (Moisturizes)
Smoother Skin (Removes and prevents skin aging)
Lather an adequate amount of cleanser on the palm well with a bit of (lukewarm) water forming delicate bouncy foam before applying onto your face. The purpose is so that the micro bubbles become so fine, that they are able to deep cleanse your skin tiny pores thoroughly. Then, cleanse your face in circular massage motions and rinse off thoroughly with water.