Menard Embellir Night Cream - Anti-aging Night Cream 35ml
ANTI-AGING - SKIN CELL RENEWAL
Intensive Anti-aging
Thick, rich texture that protects skin while you sleep
Melts into skin, making it feel soft, moist and elastic
Clearer Complexion (Treats Acne and Blemishes)
Eliminates dark spots
Anti-aging efficiency - Lifts sagging skin
Erases fine lines and wrinkles
Menard Embellir Night Cream is a intensive Global anti-aging, moisturizing cream, precursor product for the night with exceptional proven results. It replenish your skin with all it needs while you sleep. The moment it touches the skin's surface, it penetrates deep into the skin, leaving it intensively moisturized. You will wake up seeing your fresh & radiant skin that remains in time.
Your skin will be re-energized in the morning with supple and luminous appearance, full of vitality & dynamism, ready to go for a wonderful day ahead. Let beauty inspire your dreams. A finely textured anti-aging Night Cream that instantly moisturizes the skin while providing protection against external factors and a glowy complexion. Gentle night cream with a thick, rich texture that protect skin while you sleep. The Menard Embellir Night Cream protects skin and gives the sensation of moisture without feeling tacky.
This Skin Emulsion Layer envelops skin while you sleep to provide moist feeling the next morning. The rich useful substances contained in the cream nourishes your skin, resulting "wipes" off the face from fatigue, fine wrinkles, irregularities and roughness. You will see your skin color and structure more even, giving you a healthy glowing appearance. Among other benefits of using the product :

Product features:
Intensely and durably hydrate the skin

A rich texture for a high comfort
Bring firmness and suppleness

Easily and rapidly permeate the skin

Leave a soft-touch protective layer on the skin
It melts into skin, making it feel soft, moist, lighter and elastic
It protect skin during a long night's sleep and provides feeling the next morning
Permeates skin with a melting sensation and makes skin feel richly moist and bright from inside.

This product uses "Moisture Layer Emulsion", which imitates the layered structure of the intercellular lipids of the horny layer. Ceramide*1 (moisturizing ingredient), the main ingredient in the intercellular lipids, cholesterol (moisturizing ingredient), and phospholipid*2 (emulsifier) are densely arranged by layer ingredient*3 (emulsifier) to form a layered structure. In addition to providing moisture-laden comfort with a rich, thick texture, it protects a moist feeling by creating a moisture layer similar to the intracellular lipids on top of skin after application.
100% MADE IN JAPAN. Every step entailed in developing Menard products is done in Japan—clinical research, ingredient sourcing, product development, manufacturing, and packaging—utilizing their advanced technology and keen eye for perfection.
Water (Aqua), Butylene Glycol, Squalane, Isostearyl Isostearate, Diglycerin, Hydrogenated Rapeseed Alcohol, Simmondsia Chinensis (JOJOBA) Sead Oil, Limnanthes Alba (MeadowFoam) Seed Oil, Phytosteryl Macadamiate, Sodium magnesium Silicate, Pentylene Glycol, Sorbitan Stearate, Ceramide 2, Dimethicone, Phlyglyceryl-10 Distearate, Polyglyceryl-6 Stearate, Cholesterol, Fragrance (Parfum), Glycine Soja (Soybean) Sterols, Sodium Methyl Stearoyl Taurate, Sucrose Pentahydroxystearate, Hydrogenated Lecithin, Methylparaben, Methyl Gluceth-20, Sodium Metaphosphate, Xanthan Gum, Polyquaternium-51, Cholesteryl Hexyl Dicarbamate Pullulan, Cetyl Phosphate, Magnesium Ascorbyl Phosphate, Tocopheryl Acetate, Arginine, Talc, Sodium hyaluronate, Tocopherol, Ganoderma Lucidum (Mushroom) Extract, Ganoderma Sinense (Mushroom) Extract, Phenoxyethanol, Soluble Collagen, Ethylparaben, Limonene, Eugenol, Alpha-Isomethyl Ionone, Linalool, Citronellol, Benzyl Benzoate, Iron Oxides(CI77491), Iron Oxides(CI 77492) /J662
Red Reishi Extract and Black Reishi Extract (Moisturizing ingredient)

Coolest Extract (Skin conditioning ingredient)

GANODERMA LUCIDUM (MUSHROOM) EXTRACT

GANODERMA SINENSE (MUSHROOM) EXTRACT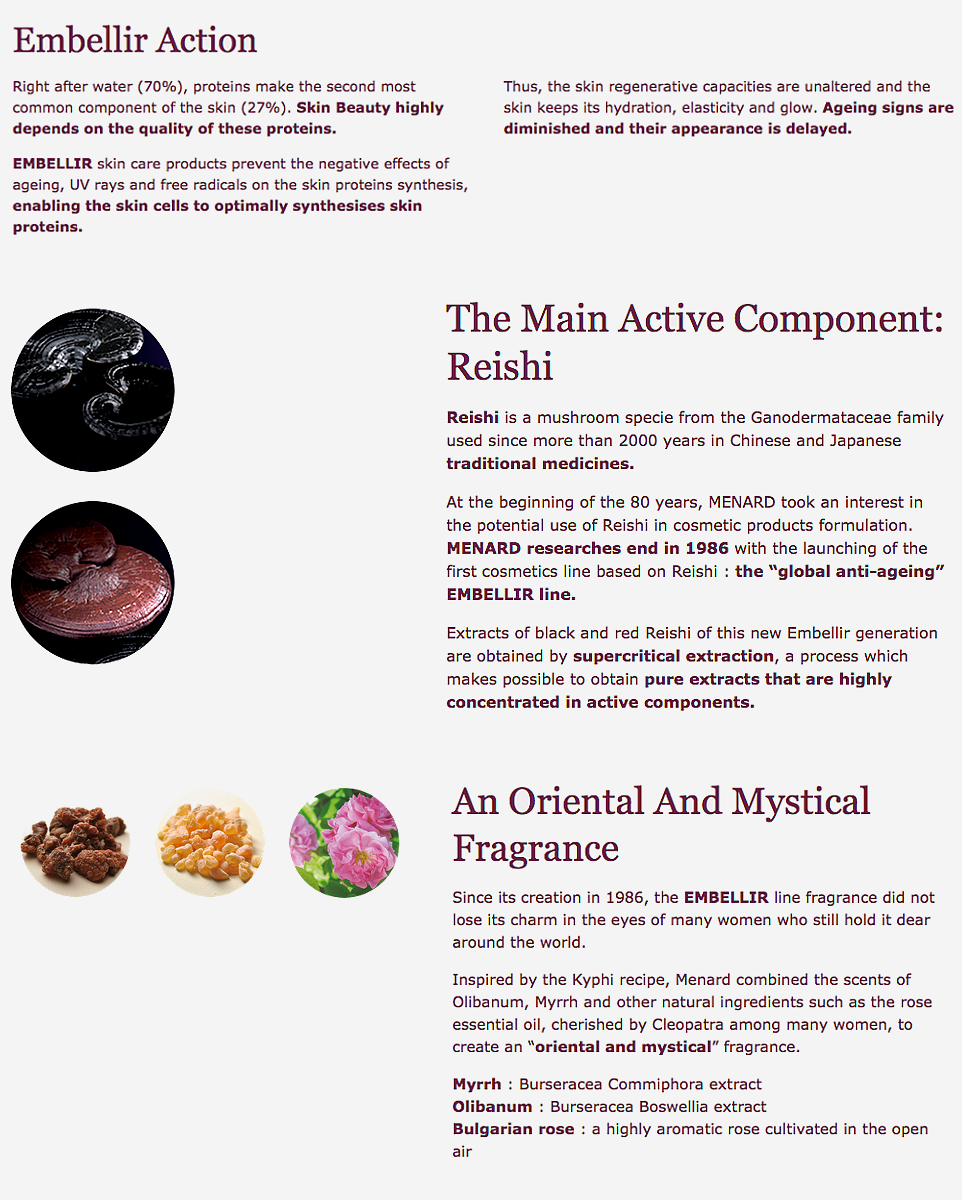 Benefits of Authentic Menard Embellir Night Cream.
The skin is smooth, bright and moisturized
Intense Anti-aging
Protects from UV rays
Restrains melanin production
Prevents pigmentation and freckles
Makes it brim with deep translucence from within
Apply onto cleansed skin, after conditioning the skin with EMBELLIR LIQUID & EXTRACT, before bedtime in the evening. Take on the tip of your finger a small amount of cream (1-2 peas) with the help of a special spatula attached to the cream. Heat the cream in your hand, then apply the cream onto the your face, neck and décolleté evenly. One jar is sufficient for use for four months.