Taut® Premium Collagen Drink Skin Whitening Supplement, 13000 mg (50ml X 8 bottles)
WHITENING - ANTI-AGING - SKIN CELL RENEWAL
Lightening/Skin Whitening (Whitens complexion)
Youthful and radiant whiter skin tone
Clearer Complexion (Treats Acne and Blemishes)
Whitens the skin and eliminates dark spots
More Uniform Complexion (Dissolves clogged pores)
Anti-aging efficiency - Lifts sagging skin
Erases fine lines and wrinkles
MOST LUXURIOUS, POWERFUL AND EFFECTIVE ANTI-AGING SKIN WHITENING PREMIUM COLLAGEN BEAUTY SUPPLEMENT!
Taut® Premium Collagen Drink. Nothing defines beauty better than youthful, firm, flawless skin. LAC Taut® Collagen Infusion Therapy preserves and enhances your beauty - giving your skin a natural radiance, stunning resilience and visible clarity that makeup and creams cannot deliver. Great Tasting Orange Flavor!

Effective and easy to consume, LAC Taut® boosts the highest concentration of RDS® premium collagen from the most premium fish source, the red snapper - 13,000mg each service - combined with a synergistic mix of powerful skin whitening and age-defying ingredients to nourish your skin from within to reveal lighter, fresh and flawless skin with clearer even skin tone, smoother skin texture, and skin that looks intensively hydrated. Like skin re-born.

Promote firmer, lighter, younger and radiant skin. A proprietary anti-aging skin whitening collagen formula that contains an incredible 13,000mg dose of RDS (Rapid Delivery System) premium low molecular weight collagen derived from red snapper, further enhanced with a powerful skin whitening agent, placenta protein. Collagen is the most abundant protein in our bodies. It is present in our muscles, skin, bones and tendons, working as a "glue" that helps hold the body together. It gives our skin strength and elasticity, and is responsible for the replacement and renewal of dead skin cells.
Each 50ml glass bottle serving contains 13,000mg Premium Type I & III Marine Hydrolyzed Collagen, providing the highest potency, quality and effectiveness for skin whitening and skin rejuvenation. Formulated with patented skin whitening technology and anti-aging ingredients most effective for restoring aging skin from within and to help you achieve lighter, firmer, younger looking skin with reduce fine lines and wrinkles. Our skin whitening and anti-aging collagen formula (RDS-Rapid Delivery System) is further enhanced with age-defying ingredients that are clinically proven and dermatologist-tested to give you results that are more immediate, visible and long lasting.
One Box contains 8 glass bottles/50ml Taut Premium Collagen Drink. Individual results will vary and are dependent on skin type and skin condition. A collagen skin whitening supplement with all natural ingredients. This high performance Taut® Anti-aging Skin Whitening Collagen Beauty Drink skin whitening supplement progressively and continuously attenuates and prevents pigmentation spots, smoothes and fights any signs of aging. This is a skin whitening/anti-aging skin care product with 100% natural active ingredients. High concentration of natural anti-melanin ingredients also prevents skin aging, pigment spots, and acne break-out for a silky, smooth finish!
Diminish the scar tissue, existing pigmentation and works at preventing new spots from forming, enhance skin barrier, restore the radiance and moisture thanks to its anti-melanin ingredients. The Taut® Premium Collagen Drink Skin Whitening Collagen Beauty Drink Anti-aging and Skin Whitening Supplement is the ultimate in hyper pigmentation control and skin tone correction, with results within only a few days. It gently refines the grain of your skin to make it incredibly smooth and lighter. Delays the aging process of skin tissues and protects the skin with antioxidant action. Restores the deep luminosity of younger, lighter looking skin as it nourishes the skin at the same time.
A highly concentrated and potent activating collagen anti-aging skin whitening supplement with deep penetrating action to provide skin with a mega-boost of age defying therapy. Provides moisture to the skin, tightens and tones instantly. Inhibits melanin production, while greatly contributing to making the skin glowing and lighter! Improve skin conditions like spots, freckles and wrinkles. Enhances skin elasticity for lighter and younger looking skin. This intensive skin whitening supplement inhibits the activity of Tyrosinase while protecting the skin against damage caused by free radicals to promote faster, more efficient and intensive skin whitening.
Replenish your skin's collagen count that started to deplete, causing your skin to look dull & dry. This anti-aging skin whitening collagen drink provides 13,000 mg of low molecular Fish Collagen yet comes with a delicious orange-taste that's low in calorie & low in sugar. It reduces wrinkles, fine lines, & age spots while keeping the skin elastic & hydrated. Combined with Coenzyme Q10 & 19 Active ingredients, it keeps your youth, fairness, & vitality for the next 10 years.
A youthful and smooth skin without wrinkles that many people dream. But when you get older than age 25, our skin every day loses collagen content due to natural degradation and collagen depletion more when we have to deal with negative effects. From the environment such as pollution, sunlight, dust and skin care every day ... All of these agents cause our skin to age, pigmentation, dryness, laxity and wrinkles.
Taut® Collagen Drink Skin Whitening Supplement 13.000 mg - Collagen activates filling facial wrinkles quickly without the need to salon to stretch the skin. At the same time restore the skin to become younger, lighter, smoother, and firmer. Helps to keep the natural moisture on the face and body. These products are not intended to diagnose, treat, cure, or prevent any disease.

Developed from the most trusted and high-quality skin whitening and anti-aging ingredients, Taut® Premium Collagen Drink Skin Whitening Collagen Beauty Drink skin whitening supplement contains the latest and most powerful all natural skin whitening ingredients that whitens dark spots, lightens acne scars and clarifies uneven pigmentation for that spotless white, beautiful skin!
100% MADE IN JAPAN. Every step entailed in developing Taut® products is done in Japan—clinical research, ingredient sourcing, product development, manufacturing, and packaging—utilizing their advanced technology and keen eye for perfection.
Content: 8 x 50ml bottles

RDS® Premium Collagen, Hyaluronic Acid, Aqueous CoQ10, DNA (Albino Protein Extract), Ceramide (from corn), Vitamin C, Vitamin E, Vitamin B1, Vitamin B2, Vitamin B6, Citric Acid, Malic Acid, Sodium Benzoate, Orange Juice, Orange Flavor, Isomaltooligosaccharide, Sucralose, Water.
Contains no pork or pork derivatives.
Precaution: If you are allergic to seafood, consult your doctor before using Taut.
Not suitable for pregnant or lactating women.
Do not take while on Warfarin therapy without medical advice.
Storage: Keep refrigerated.
Manufactured in Japan.
Benefits of Authentic Taut® Collagen Drink Drink Skin Whitening Supplement.
Works from the inside out for an evenly toned, radiantly whiter skin.
Lightening/Skin Whitening (Whitens complexion)
Anti-aging efficiency
Clearer Complexion (Treats Acne and Blemishes)
Whitens the skin and eliminates dark spots
More Uniform Complexion (Dissolves clogged pores)
Lifts sagging skin
Erases fine lines and wrinkles
Youthful and radiant whiter skin tone
Reduces wrinkles, create firmer, smoother more radiant skin
Promotes a translucent, lustrous and even-toned complexion
Regenerates healthy skin tissues/build new skin cells
More Moisturized (Moisturizes)
Smoother Skin (Removes and prevents skin aging)
Skin cell and tissue regeneration
Smoother and lighter complexion
Skin cell and tissue regeneration
Tendon and joint flexibility
Stronger nails
Shinier hair
Promote firmer youthful skin
Reduce fine lines and wrinkles
Helps tighten sagging skin
Boost skin elasticity and thickness
Increase hydration, suppleness and radiance
Minimize appearance of stretch marks
Stronger hair and nails
Balances oil production on the skin
Helps maintain healthier joints
Gives skin ample structural support to keep it firm and elastic
Cushions the skin, making it look smooth, healthy and wrinkle-free
Strengthens blood vessels
Promotes anti-aging, keeping the skin wrinkle-free and hydrated
Stimulates skin cell renewal to keep the skin looking rejuvenated
Provides intense anti-aging, whitening, & skin cell renewal
Parabenfree formulas
Strengthen nails and produce thicker and stronger hairProper functions of body organs
Antioxidants (Antioxidant) Has great antioxidant power
Reducing greenhouse freckles and dark spots
Destroy viruses and bacteria
Inhibits the growth of a cold virus
Inflammation of body
Relieve Allergy Symptoms
Resistance to DNA damage
Help against inflammation of the liver and bile
Accelerate the toxins from the body
The liver can break down fat excreted by the digestive system
The liver synthesis of glutathione more
Tighten pores
Reducing damage from radiation UV
Driving heavy metals from the body, such as mercury, arsenic, lead
Reduce the incidence of psoriasis
Revitalize the skin quickly
Prevents premature aging of cells
Acts as an anti-wrinkle treatment
Hydrates skin to prevent dryness
Improves the appearance of hair & nails
Has skin and wound healing properties
Has sunscreen effect
Supports the skin's elasticity and firmness
Conditions the skin making it look smooth and healthy
Strengthens blood vessels
Promotes anti-aging keeping the skin wrinkle-free and fully hydrated
Aids in the production of healthier hair and nails
Restores energy & vitality
Promotes good mood & fights stress
May ease anxiety or depression
Boosts immunity
Liver protection
Improves brain function, concentration, & memory
Protection from inflammation, bacteria, virus & germs
Combats cholesterol
Controls Diabetes & blood sugar
Strengthens bones & prevents osteoporosis
Adapts to the needs of the body
Shake well before use; use immediately upon opening.
For Best Results: 1 bottle Taut Premium Collagen every day for 3 weeks.
Purest and safest source of collagen: Deep water red snapper fish. Highest degree of purity and effectiveness.
BSE-TSE Free, No Chemicals, No Preservatives
FDA Cleared as Dietary Supplement
Produced under environmentally-friendly production processes (GMP)
How Taut® Collagen Works
WHAT IS COLLAGEN?
Collagen is the key building block of the dermis layer of our skin. It functions very much like the frame of our house. Without a strong frame, your house starts to get cracks and fall down.
There are 28 type of collagen in our body. Our dermis layer is made up of 85% type I and 15% type III collagen, fibroblasts, elastin and hyaluronic acid. Together they are the key components for the extracellular matrix which gives our skin its structure, elasticity and firmness.
Unfortunately after we turn 30, our body stops producing collagen and we start to lose 1-2% every year.
WHY IS COLLAGEN IMPORTANT?
This skin graph shows the collagen intensity in our skin dermis at different ages. Yellow and Orange shows high intensity of collagen when we are in our 20s and 30s vs green and black, which is low intensity after age 40.
Collagen depletion results in
1. Diminished elasticity, fine lines, wrinkles and sagging skin.
2. Dull, dry and fatigued skin.
TAUT® HYDROLZYED COLLAGEN TECHNOLOGY
Collagen molecule at its native state is too large for our body to digest and the pores of the epidermis to absorb.
However, LAC Taut® Collagen Drink uses the revolutionary patented hydrolysis technology that breaks down the super collagen molecule (300,000 Daltons) into micro-sized tiny pieces called collagen peptides (average size 3,000-5,000 Daltons) small enough to be readily absorbed and penetrate into the dermis layer of the skin. Clinical studies show ingesting 10,000mg hydrolyzed collagen a day for 8 weeks helps to increase skin collagen and reduce fine lines and wrinkles, increase elasticity and hydration.
HOW LAC TAUT® PREMIUM COLLAGEN DRINK PRODUCE RESULTS
Each serving of LAC Taut® Collagen Drink delivers 13,000mg type I hydrolyzed marine collagen peptides (90% Type I and 10% Type III ) with hyaluronic acid, chondroitin sulfate and other key anti-aging ingredients.
Rather than providing amino acids that have to be broken down and then reassembled into collagen, hydrolyzed collagen is able to deliver small, usable chain peptides efficiently into skin dermis and trigger collagen production in the skin.
Our body detects the high concentration of collagen peptides (13,000mg) in our bloodstream, triggers the wound response. This healing response is very similar to what happens when you cut your finger or sustain an injury. This wound repair response in turn activates a group of specialized cells in the dermis called 'fibroblast' to begin producing collagen again.
In addition, Taut's hyaluronic acid and chondroitin sulfate (elastin) with other key ingredients help to restore the elastin and hyaluronic acid in the dermis of our skin, providing the moisture, suppleness, elasticity needed to promote younger smoother skin.
The graph shows ultrasound images of a 60 year-old woman's face after drinking one bottle of Taut Collagen every night for the first eight nights, and then every other night during an 8-week clinical study.


You can see below that after 8 weeks, her collagen intensity has improved dramatically. Skin appears smoother with denser collagen structure (the yellowish orange areas) than before drinking LAC Taut® Collagen Drink.
DERMATOLOGIST TESTED TO INCREASE COLLAGEN INTENSITY
Actual results* of Collagen Ultrasound Imaging before and after drinking LAC Taut® Collagen Drink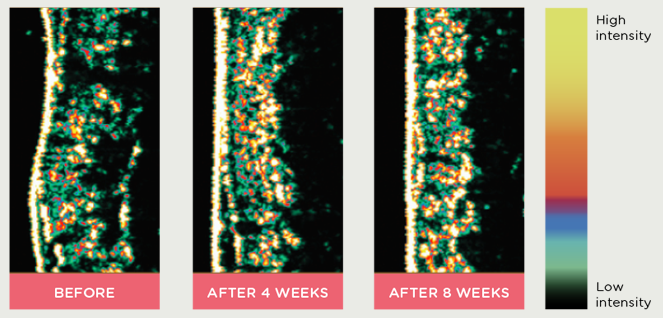 *Facial images of a 60-year-old woman. (1 bottle LAC Taut® every night for first 8 nights, then 1 bottle LAC Taut® every other night for remainder of period.)
Are LAC Taut® Collagen Drink and LAC Taut® White suitable for all skin types and ages?
LAC Taut® Premium Collagen Drink is an age-defying skin whitening beauty supplement and LAC Taut® White is an age-defying skin whitening supplement. Both are suitable for adults of any age, gender and skin type.

Who are those unsuitable to take LAC Taut® Collagen Drink and LAC Taut® White?
Those who are allergic to any ingredient in LAC Taut® Collagen Drink and LAC Taut® White should not consume them. Also, those having any serious illness and/or are under medication should consult their doctor before use. Vegans may wish to note that LAC Taut® Collagen Drink contains fish collagen and placenta.

Is it necessary to take LAC Taut® Collagen Drink with LAC Taut® White? Do I need other supplements?
LAC Taut® Collagen Drink is a comprehensive beauty supplement that can be taken alone for maintenance of healthy skin. Those who desire fairer skin or wish to reduce pigmentation or blemish marks can include LAC Taut® White in their skincare regime. In cases of dry skin, essential fatty acids, namely Omega 3 & 6, are also recommended to enhance the skin's moisture retention ability.

Do I consume LAC Taut® Collagen Drink and LAC Taut® White everyday?
It is recommended that one consumes LAC Taut® Collagen Drink at least 3 to 4 times a week. For intensive results, it can also be taken daily. LAC Taut® White is formulated for daily intake.

Do I need to consume LAC Taut® Collagen Drink every day?
For first time users and to achieve optimal results, we recommend consuming Taut every day for the first 21 days to supercharge collagen production in your dermis. After you have achieved your desired results, you may switch to drinking Taut every other day or 3-4 times a week.

How soon can I see results?
LAC Taut® Collagen Drink and LAC Taut® White are advanced anti-aging skin whitening beauty supplements with superior nourishing and restorative properties. Its benefits may be seen in as quickly as a week's time of daily intake for most people. As individual's response time and extent of skin damage differ, some may take a longer time to see and feel results.