Menard Embellir Extract - Anti-aging Serum 60ml
ANTI-AGING - SKIN CELL RENEWAL
Intensive Anti-aging
Uniquely thick and richly textured serum
Skin that feels more elastic
Permeates skin evenly to make skin feel moist and elastic
Reaches to the horny layer
Youthful and radiant whiter skin tone
Protects from UV rays
Anti-aging efficiency - Lifts sagging skin
Erases fine lines and wrinkles
Menard Embellir Extract Serum is your elixir essence of beauty, a richly-textured anti-aging serum that contains hyaluronic acid to improve your skin's moisture content and at the same time strengthen the skin's barrier. It instantly penetrates the skin cell evenly to hydrate and revitalize the skin in a dramatic, intense and lasting way. It visibly transform skin's appearance, making it lighter, smoothen out wrinkles and improve elasticity restoring the luminosity, vitality and youthfulness of the skin.
Rich extract rejuvenating serum that penetrates into the skin and helps regain vital appearance. Black Reishi Extract: prevents gene aging and extends cells' life by revitalizing them. Red Reishi extract and BRG-N (Bifidobacterium Longum Repair Gene): repair the DNA damaged by UV rays and free radicals. Unique thick and richly textured serum for skin that feels more elastic.

Product features:
Intensely and durably hydrate the skin

A rich texture for a high comfort
Deeply moisturizes
Your complexion recovers its brightness and glow
Enhances elasticity
Repairing action
Uniquely thick and richly textured serum that blends into skin evenly, making it feel more elastic
Permeates skin evenly to make skin feel moist and elastic
Because it contains ingredient identical to the structural ingredients of Moisture Layer Emulsion, it improves the adhesion of LIQUID, DAY CREAM and NIGHT CREAM, providing a strong sensation of moisture
Permeates skin with a melting sensation and makes skin feel richly moist and bright from inside.

This product uses "Moisture Layer Emulsion", which imitates the layered structure of the intercellular lipids of the horny layer. Ceramide*1 (moisturizing ingredient), the main ingredient in the intercellular lipids, cholesterol (moisturizing ingredient), and phospholipid*2 (emulsifier) are densely arranged by layer ingredient*3 (emulsifier) to form a layered structure. In addition to providing moisture-laden comfort with a rich, thick texture, it protects a moist feeling by creating a moisture layer similar to the intracellular lipids on top of skin after application.
100% MADE IN JAPAN. Every step entailed in developing Menard products is done in Japan—clinical research, ingredient sourcing, product development, manufacturing, and packaging—utilizing their advanced technology and keen eye for perfection.
Water (Aqua), Alcohol, Butylene Glycol, Dipropylene Glycol, Glycerin, Cellulose Gum, PEG/PPG/Polybutylene Glycol-8/5/3 Glycerin, Methylparaben, PEG-40 Hydrogenated Castor Oil, Sodium Hyaluronate, Fragrance (Parfum), Cholesteryl Hexyl Dicarbamate Pullulan, Hydrolyzed Hyaluronic Acid, Magnesium Ascorbyl Phosphate, Sodium Citrate, Pentylene Glycol, Polyquaternium-51, Hydrogenated Lecithin, Ganoderma Lucidum (Mushroom) Extract, Ganoderma Sinense (Mushroom) Extract, Phenoxyethanol, Soluble Collagen, Ceramide 2, Cholesterol, Ethylparaben, Cetyl Phosphate, Limonene /J660
Red Reishi Extract and Black Reishi Extract (Moisturizing ingredient)
BRG-N (Treatment ingredient)

GANODERMA LUCIDUM (MUSHROOM) EXTRACT

GANODERMA SINENSE (MUSHROOM) EXTRACT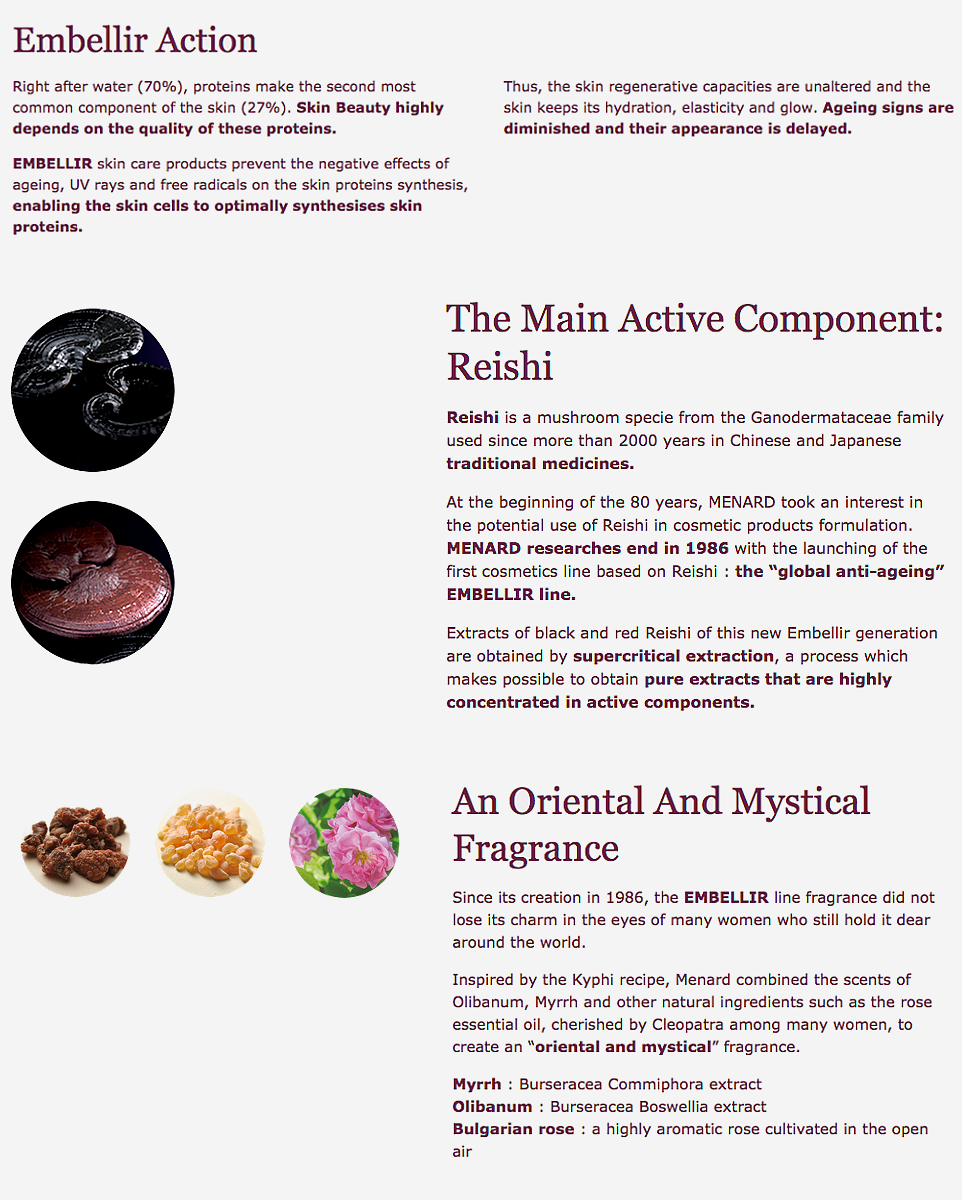 Benefits of Authentic Menard Embellir Extract Anti-aging Serum.
The skin is smooth, bright and moisturized
Intense Anti-aging
Lightening/Skin Whitening (Whitens complexion)
Restrains melanin production
Clearer Complexion (Treats Acne and Blemishes)
Whitens the skin and eliminates dark spots
Anti-aging efficiency - Lifts sagging skin
Erases fine lines and wrinkles
More Uniform Complexion (Dissolves clogged pores)
More Moisturized (Moisturizes)
Smoother Skin (Removes and prevents skin aging)
After applying the Liquid or any lotion, take 2-3 pumps of the Extract onto the palm and apply over the face, twice daily.