Mosbeau Placenta Collagen Jelly Glutathione Skin Whitening Supplement, 15000mg
WHITENING - ANTI-AGING - SKIN CELL RENEWAL
Very intense skin whitening action

Obstructs the production of melanin

Erases fine lines and wrinkles

Slows the photo-aging process

Natural UV protection & Luminous skin
VISIBLY WHITENS THE SKIN AND UNIFIES THE COMPLEXION

Experience intense skin whitening. The Synergy For Ultimate Skin Whitening. Nourishing collagen and potency of Fish Collagen, Japan-patented Marine Placental Protein, Horse Placental Protein, & L-Cystine, hydrates your dry skin, reduces signs of fatigue and aging appearance while revitalizing all facial zones. Skin will be left feeling obviously hydrated and looking smoother, denser, whiter and more beautiful! Prevent the passing years from fading away your beauty with the powerful synergy of Japan's most famous anti-aging & whitening ingredients.
Experience a new taste in skin whitening and anti-aging in delicious Jelly sticks! That's Mosbeau Placenta Collagen Jelly Anti-aging and Skin Whitening Supplement. A SYNERGY of the best Anti-Aging plus whitening ingredients; Japan-Patented Placental Protein, Fish Collagen, and L-cystine ingenuously working together with a total of 12 best combined ingredients to give you intense skin whitening! Working together to reduce wrinkles & fine lines, lighten age spots, moisturize the skin, & promote a youthful beauty that stays through the years. Comes in fruity mango flavor and easy to carry sachets.
1 box, 30 sachets
15000mg
Fruity Mango Flavor
Japan-Patented Placental Protein, Fish Collagen, and L-cystine
12 best combined ingredients to give you intense skin whitening
Anti-aging, Whitening and Skin Cell Renewal
Diminish the scar tissue, existing pigmentation and works at preventing new spots from forming, enhance skin barrier, restore the radiance and moisture thanks to its anti-melanin ingredients. The Mosbeau Placenta Collagen Jelly Anti-aging and Skin Whitening Supplement is the ultimate in hyper pigmentation control and skin tone correction, with results within only a few weeks. It gently refines the grain of your skin to make it incredibly smooth and lighter. Delays the aging process of skin tissues and protects the skin with antioxidant action. Restores the deep luminosity of younger, lighter looking skin as it nourishes the skin at the same time.
A highly concentrated and potent activating glutathoine collagen skin whitening supplement with deep penetrating action to provide skin with a mega-boost of age defying therapy. Provides moisture to the skin, tightens and tones instantly. Inhibits melanin production, while greatly contributing to making the skin glowing and lighter! The complexion looks younger, whiter and more radiant.
A placenta collagen skin whitening supplement with all natural ingredients. This high performance mosbeau placenta and glutathione collagen jelly skin whitening supplement progressively and continuously attenuates and prevents pigmentation spots, smoothes and fights any signs of aging. This is a skin whitening/anti-aging skin care product with 100% natural active ingredients. High concentration of natural anti-melanin ingredients also prevents skin aging, pigment spots, and acne break-out for a silky, smooth finish! Evenly whitens skin tone while blocking the epidermic biosynthesis of pigmentation. Stimulates cell regeneration and delays the skin aging process. Intensively moisturizes the skin. Effectively lightens darks spots, acne spots, freckles, age spots, dark areas, blemishes and other discolorations.
Improve skin conditions like spots, freckles and wrinkles. Enhances skin elasticity for lighter and younger looking skin. This intensive skin whitening supplement inhibits the activity of Tyrosinase while protecting the skin against damage caused by free radicals to promote faster, more efficient and intensive skin whitening.
Developed from the most trusted and high-quality skin whitening ingredients, mosbeau placenta collagen jelly skin whitening supplement contains the lastest and most powerful all natural skin whitening ingredients that whitens dark spots, lightens acne scars and clarifies uneven pigmentation for that spotless white, beautiful skin!
100% MADE IN JAPAN - Every step entailed in developing Mosbeau Placenta White is done in Japan—clinical research, ingredient sourcing, product development, manufacturing, and packaging—utilizing their advanced technology and keen eye for perfection.
Content: 1 box / 30 Sachets / 15000mg
Horse Placenta, L-cystine, Glutathione, Soy Isoflavones, Hesperidin, CoenzymeQ10, Vitamin C, Acerola, Marine Placenta Salmon Egg, Collagen (Fish), Hyaluronic Acid, a-Tocopherol (Vitamin E)
Benefits of Authentic Mosbeau Placenta Collagen Jelly Skin Whitening and Anti-aging Supplement.
Whitens the skin and eliminates dark spots
Gives skin ample structural support to keep it firm and elastic
Cushions the skin, making it look smooth, healthy and wrinkle-free
Strengthens blood vessels
Promotes anti-aging, keeping the skin wrinkle-free and hydrated
Stimulates skin cell renewal to keep the skin looking rejuvenated
Provides intense anti-aging, whitening, & skin cell renewal
Comes in ready to eat jelly sticks perfect for women on-the-go
Low calorie and low in sugar with a delicious mango flavor
Lightening/Skin Whitening (Whitens complexion)
Anti-aging
Clearer Complexion (Treats Acne and Blemishes)
More Uniform Complexion (Dissolves clogged pores)
More Moisturized (Moisturizes)
Smoother Skin (Removes and prevents skin aging)
Balances oil production on the skin
Parabenfree formulas
Take 1 sachet daily at anytime of the day, on empty stomach. Best served when chilled
CAUTION: Consume contents after opening. Product may melt once sachet is opened. Keep in a cool, dry place. Avoid exposure to heat and direct sunligh. Not recommended for children and infants
Placental Protein
Whitening and anti-aging ingredient
Placenta plays an important role in building the body of a person as it comprises almost all the nutrients needed for life - proteins, lipids, carbohydrates, nucleic acids, vitamins, and minerals. It is a rich source of amino acids which is vital in producing renewed skin. It activates the production of collagen, elastin, & hyaluronic acid needed by the skin to replace old cells with new ones. During this cell regeneration, impaired and aged skin is naturally reborn to reveal a whiter, glowing, and youthful-looking skin. It is considered to be Japan's best ingredient because of its triple action formula: whitening, anti-aging, & skin cell renewal.
Source of Placental Protein
• JAPAN-PATENTED MARINE PLACENTAL PROTEIN (3899166, 3946238, 3946239)
A Japan-patented ingredient that comes from fresh Japanese salmon eggs. It is clinically proven safe and effective in skin whitening, anti-aging, and skin cell renewal. It whitens twice more compared to glutathione as it suppresses Tyrosinase activity and controls melanin production responsible for skin darkening.

Clinical Test Results of Marine Placental Protein
TEST RESULTS ON WHITENING ABILITY
The lab test results showed that Placental Protein inhibits up to 63% of *Tyrosinase activity while Glutathione controls only 32%. Therefore, it is twice more effective than glutathione when it comes to whitening power.

Test results on ANTI-AGING ability
This ingredient showed a remarkable ability to defend the skin against aging which was confirmed and clarified by credible laboratories in Japan. After putting 20 subjects under an experiment, their skin texture and complexion changed significantly after 8 weeks.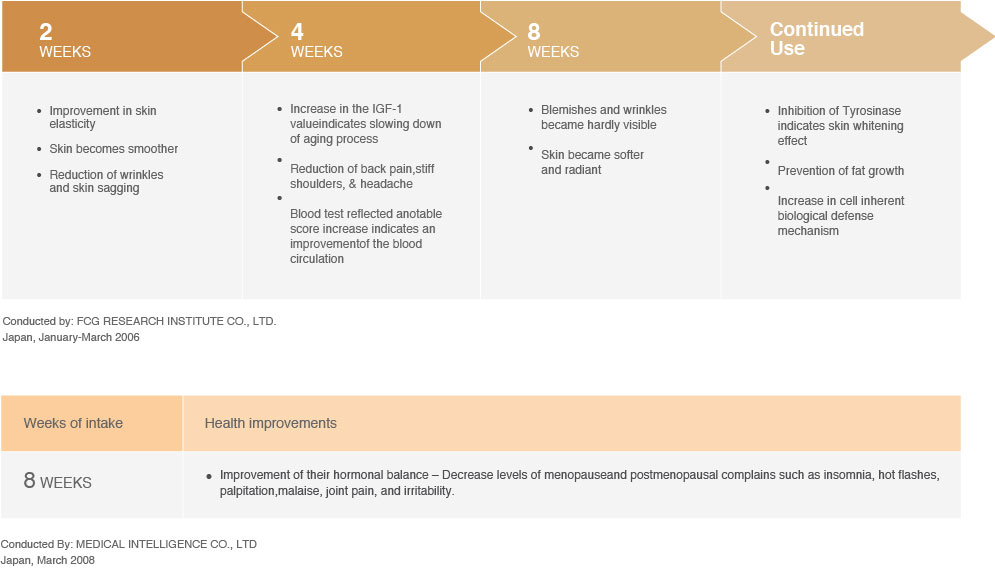 • HORSE PLACENTAL PROTEIN
Has an average of 300 times more amino acids than other placental extracts. Only 25% of the entire 2000 thoroughbred horse population in Japan can produce an ample amount of placenta. However extremely limited and valuable, it is a highly effective ingredient that promotes whitening and anti-aging.

Clinical Test Results of Horse Placental Protein
Test results on ANTI-AGING ability
This ingredient was put to the test by letting 19 subjects take Placental Protein for 1 month. The subjects were found to have more elastic and even skin tone after the experiment.

Collagen
Anti-aging ingredient
Next to water, collagen is the most important structural substance in the body. It makes up 75% of the skin and plays an extremely important role in ensuring its cohesion, elasticity, & regeneration. However, collagen production by dermal skin cells called fibroblasts slow down as we reach our 30's. If the collagen fibers are not optimally repaired, spaces and gaps in the skin emerge, thus aging becomes visible.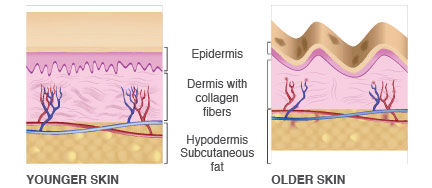 Young skin is healthy-looking due to adequate collagen count in the skin. Old skin, on the other hand, is wrinkled and saggy due to the effects of natural aging & other health aggressors.
Collagen Depletion
Naturally, our body gradually loses the ability to regenerate overtime resulting to collagen depletion. This is why the skin loses its firmness and glow, hair becomes thinner and dull, joints become less flexible, and the body loses its youth.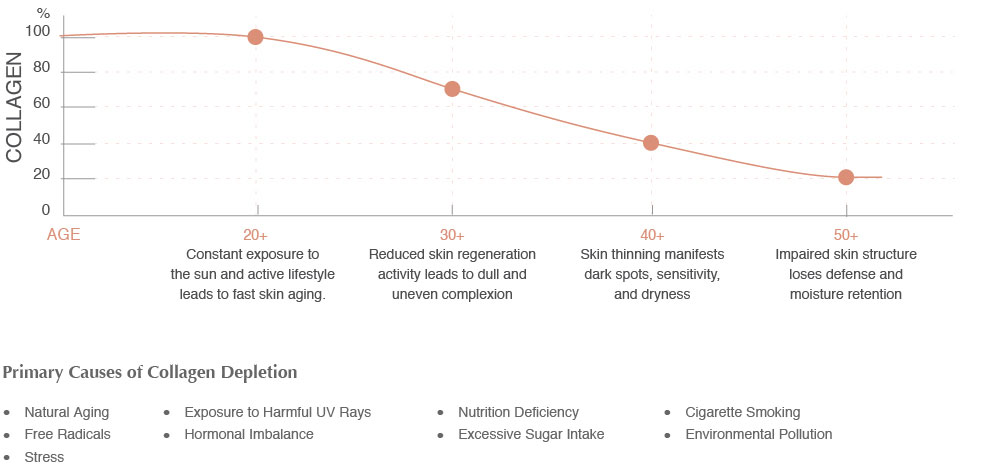 Sources of Collagen
Mosbeau uses Fish Collagen, a natural substance extracted from the finest fish species and is considered as the best source of natural collagen. Sourced from fishes which consist of small peptide molecules, it has superior ability to be digested & integrated in the collagen synthesis happening in the skin dermis. Due to its smaller molecular weight, it is absorbed at a higher level through the intestinal barrier into the bloodstream and carried throughout the body.
Skin & Health Benefits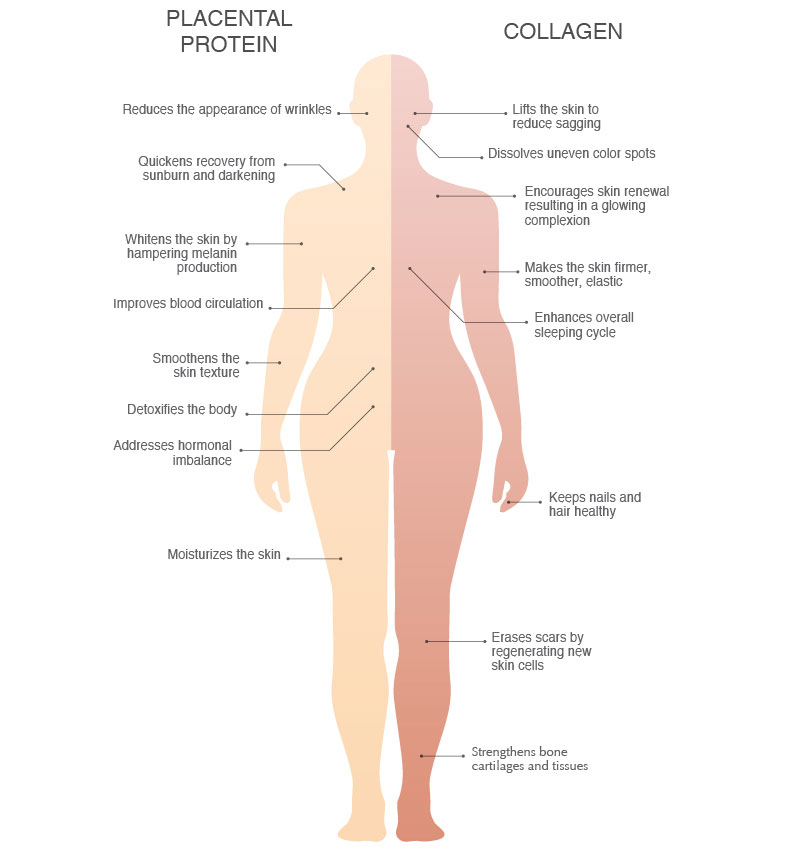 Royal Jelly
The ultimate food supplement for health and beauty
Royal Jelly contains great amounts of proteins, vitamins, enzymes, and amino acids for the body's nourishment & development. Today, Royal Jelly is considered as one of the world's most nutrient-rich substances - a valuable gift of nature for perfect health & beauty.
Source of Royal Jelly
Royal Jelly is a milky secretion produced by worker honey bees exclusively for the consumption of the queen bee. This pure substance is the reason why the queen bee becomes the center of attraction and plays the most vital role in the bee colony.

The Queen Bee
As the queen bee continues to consume Royal Jelly, she becomes the center of attraction, dominant, and one-of-a-kind. She develops large, long, and graceful body and fully-functioning ovaries which allows her to produce healthy bees. Compared to other bees, she can live up to 6 years longer because of Royal Jelly!
Benefits of Royal Jelly
Unlike honey which is mainly used as a sweetener, Royal Jelly provides the body with numerous health benefits.
Health
Health
Restores energy & vitality
Promotes good mood & fights stress
May ease anxiety or depression
Has great antioxidant power
Boosts immunity
Liver protection
Improves brain function, concentration, & memory
Protection from inflammation, bacteria, virus & germs
Combats cholesterol
Controls Diabetes & blood sugar
Strengthens bones & prevents osteoporosis
Adapts to the needs of the body
Protection from some types of cancer (Breast cancer)
Beauty
Prevents premature aging of cells
Acts as an anti-wrinkle treatment
Hydrates skin to prevent dryness
Improves the appearance of hair & nails
Has skin and wound healing properties
Has sunscreen effect