Premium Collagen Drink Skin Whitening Supplement, 10,000 mg (500 ml)
WHITENING - ANTI-AGING - SKIN CELL RENEWAL
Very intense skin whitening action
Obstructs the production of melanin
Erases fine lines and wrinkles - Reduce saggy skin appearance
Anti-aging efficiency - Lifts sagging skin - Keep skin lifted & firm
Improve skin firmness and elasticity
Enhance skin repair and renewal processes for young and old
Promote skin rejuvenation process, promote radiance
Intensive hydration and nourish skin from within, skin is more moisturized and supple
Slows the photo-aging process - Provides UV Protection and Photoprotection
Prevents and controls hyperpigmentation whiter, brighter, younger-looking, even skin tone
Lightening/Skin Whitening (Whitens complexion)
Clearer Complexion (Treats Acne and Blemishes)
Whitens the skin and eliminates dark spots
More Uniform Complexion (Dissolves clogged pores)
Youthful, Luminous and radiant whiter skin tone
POWERFUL AND EFFECTIVE 10,000 MG ANTI-AGING SKIN WHITENING COLLAGEN BEAUTY SUPPLEMENT!
SNP® Collagen Skin Whitening Drink. Collagen + Hyaluronic acid + Vitamins! The daily use of SNP® Collagen anti-aging skin whitening beauty drink ensures: Visible reduction in wrinkles and fine lines, a fresh, youthful appearance, glowing, well-hydrated skin, better skin elasticity, firmer, lighter, younger and radiant skin. SNP® Collagen Drink preserves and enhances your beauty - giving your skin a natural radiance, stunning resilience and visible clarity that makeup and creams cannot deliver. Nourishes the skin from within for a radiant, youthful complexion. SNP® Collagen Drink is formulated with age-defying ingredients to hydrate skin intensely from inside out and maintain skin fullness and radiance. Its triple skin whitening action actively controls melanin production to prevent skin darkening while lightening your current complexion. Together with its powerful anti-aging ingredients, say goodbye to wrinkles and fine lines and hello to a youthful glow. The SNP® Premium Collagen Drink skin whitening supplement is the ultimate in hyper pigmentation control and skin tone correction, with results within only a few days. It gently refines the grain of your skin to make it incredibly smooth and lighter.

It is suitable for pescatarians (people who do not eat meat but do eat fish). It contains a higher concentration of type I collagen (the collagen type that is important for beautiful skin). It is Kosher- and Halal-certified. Great Tasting Berry Flavor!

Effective and easy to consume, SNP® Collagen drink skin whitening supplement boosts the highest concentration of RDS® premium collagen - 10,000 mg each 30 ml service - combined with a synergistic mix of powerful skin whitening and age-defying ingredients to nourish your skin from within to reveal lighter, fresh and flawless skin with clearer even skin tone, smoother skin texture, and skin that looks intensively hydrated. SNP® Anti-aging Skin Whitening Collagen Drink is additionally enriched with vitamin C, a vitamin B complex, magnesium and essential amino acids. The interaction of all ingredients not only promotes the body's own production of collagen, but also supplies our body with Hyaluronic acid. Vitamins C, B1, B2, B5, B6 and Magnesium supports the effect and ensure a better overall condition of the skin. SNP® Skin Whitening Collagen Drink combines in a special formula of highly effective collagen proteins and Hyaluronic acid. Both are key components that play a crucial role in healthy hair, nails and joints.
Promote firmer, lighter, younger and radiant skin. A proprietary anti-aging skin whitening collagen formula that contains an incredible 10,000 mg dose of premium low molecular weight collagen, further enhanced with a powerful Hyaluronic acid and vitamin skin whitening agents. Collagen is the most abundant protein in our bodies. It is present in our muscles, skin, bones and tendons, working as a "glue" that helps hold the body together. It gives our skin strength and elasticity, and is responsible for the replacement and renewal of dead skin cells.
Each 30ml serving contains 10,000 mg Premium Type I Marine Hydrolyzed Collagen, providing the highest potency, quality and effectiveness for skin whitening and skin rejuvenation. Formulated with patented skin whitening technology and anti-aging ingredients most effective for restoring aging skin from within and to help you achieve lighter, firmer, younger looking skin with reduce fine lines and wrinkles. Our skin whitening and anti-aging collagen formula is further enhanced with age-defying ingredients that are clinically proven and dermatologist-tested to give you results that are more immediate, visible and long lasting.
One bottle contains 500 ml SNP® Premium Collagen Drink. Individual results will vary and are dependent on skin type and skin condition. A collagen skin whitening supplement with all natural ingredients. This high performance SNP® Anti-aging Skin Whitening Collagen Beauty Drink skin whitening supplement progressively and continuously attenuates and prevents pigmentation spots, smooths and fights any signs of aging. This is a skin whitening/anti-aging skin care product with 100% natural active ingredients. High concentration of natural anti-melanin ingredients also prevents skin aging, pigment spots, and acne break-out for a silky, smooth finish!
Diminish the scar tissue, existing pigmentation and works at preventing new spots from forming, enhance skin barrier, restore the radiance and moisture thanks to its anti-melanin ingredients. The SNP® Collagen Drink Skin Whitening Collagen Beauty Drink Anti-aging and Skin Whitening Supplement is the ultimate in hyper pigmentation control and skin tone correction, with results within only a few days. It gently refines the grain of your skin to make it incredibly smooth and lighter. Delays the aging process of skin tissues and protects the skin with antioxidant action. Restores the deep luminosity of younger, lighter looking skin as it nourishes the skin at the same time.
A highly concentrated and potent activating collagen anti-aging skin whitening supplement with deep penetrating action to provide skin with a mega-boost of age defying therapy. Provides moisture to the skin, tightens and tones instantly. Inhibits melanin production, while greatly contributing to making the skin glowing and lighter! Improve skin conditions like spots, freckles and wrinkles. Enhances skin elasticity for lighter and younger looking skin. This intensive skin whitening supplement inhibits the activity of Tyrosinase while protecting the skin against damage caused by free radicals to promote faster, more efficient and intensive skin whitening.
Replenish your skin's collagen count that started to deplete, causing your skin to look dull & dry. This anti-aging skin whitening collagen drink provides 10,000 mg of low molecular Fish Collagen yet comes with a delicious Berry-taste that's low in calorie & low in sugar. It reduces wrinkles, fine lines, & age spots while keeping the skin elastic & hydrated. Combined with Hyaluronic Acid and Vitamins, it keeps your youth, fairness, & vitality for the next 10 years.
A youthful and smooth skin without wrinkles that many people dream. But when you get older than age 25, our skin every day loses collagen content due to natural degradation and collagen depletion more when we have to deal with negative effects. From the environment such as pollution, sunlight, dust and skin care every day. All of these agents cause our skin to age, pigmentation, dryness, laxity and wrinkles. SNP® Collagen Drink Skin Whitening Supplement 10.000 mg - Collagen activates filling facial wrinkles quickly without the need to salon to stretch the skin. At the same time restore the skin to become younger, lighter, smoother, and firmer. Helps to keep the natural moisture on the face and body. These products are not intended to diagnose, treat, cure, or prevent any disease.
Developed from the most trusted and high-quality skin whitening and anti-aging ingredients, SNP® Collagen, Hyaluronic Acid, Vitamins Skin Whitening Collagen Beauty Drink skin whitening supplement contains the latest and most powerful all natural skin whitening ingredients that whitens dark spots, lightens acne scars and clarifies uneven pigmentation for that spotless white, beautiful skin!
100% MADE IN EUROPE. Every step entailed in developing SNP® products is done in Europe—clinical research, ingredient sourcing, product development, manufacturing, and packaging—utilizing their advanced technology and keen eye for perfection.
Content: 1 bottle - 500 ml

Composition per daily dose of 30 ml - % RI * 100% Vegan and Non-GMO.
* RI =% of reference values for daily intake according to EU no. 1169/2011. (RI = Reference Intake)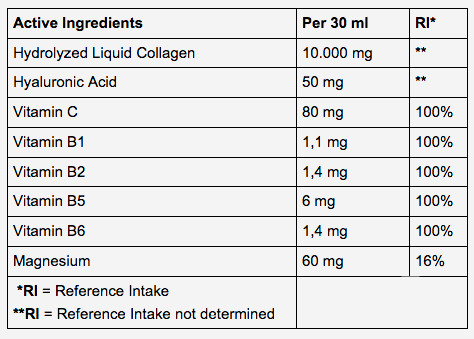 Main ingredients: purified water, hydrolyzed collagen, hyaluronic acid, vitamins: C, B5, B2, B6, B1, magnesium.
Other ingredients:
Sweeteners: acesulfame K, saccharin, sucralose.
Preservatives: potassium sorbate, sodium benzoate.
Food acids: malic acid, citric acid.
Humectant: glycerol, purified water
Coloring: riboflavin.
Contains no pork or pork derivatives.
Precaution: If you are allergic to seafood, consult your doctor before using.
Not suitable for pregnant or lactating women.
Do not take while on Warfarin therapy without medical advice.
Storage: Keep refrigerated.
Manufactured in Europe.
Benefits of Authentic SNP® Collagen Drink Drink Skin Whitening Supplement.
Works from the inside out for an evenly toned, radiantly whiter skin.
Lightening/Skin Whitening (Whitens complexion)
Anti-aging efficiency
Clearer Complexion (Treats Acne and Blemishes)
Whitens the skin and eliminates dark spots
More Uniform Complexion (Dissolves clogged pores)
Lifts sagging skin
Erases fine lines and wrinkles
Youthful and radiant whiter skin tone
Reduces wrinkles, create firmer, smoother more radiant skin
Promotes a translucent, lustrous and even-toned complexion
Regenerates healthy skin tissues/build new skin cells
More Moisturized (Moisturizes)
Smoother Skin (Removes and prevents skin aging)
Skin cell and tissue regeneration
Smoother and lighter complexion
Skin cell and tissue regeneration
Tendon and joint flexibility
Stronger nails
Shinier hair
Promote firmer youthful skin
Reduce fine lines and wrinkles
Helps tighten sagging skin
Boost skin elasticity and thickness
Increase hydration, suppleness and radiance
Minimize appearance of stretch marks
Stronger hair and nails
Balances oil production on the skin
Helps maintain healthier joints
Gives skin ample structural support to keep it firm and elastic
Cushions the skin, making it look smooth, healthy and wrinkle-free
Strengthens blood vessels
Promotes anti-aging, keeping the skin wrinkle-free and hydrated
Stimulates skin cell renewal to keep the skin looking rejuvenated
Provides intense anti-aging, whitening, & skin cell renewal
Parabenfree formulas
Strengthen nails and produce thicker and stronger hairProper functions of body organs
Antioxidants (Antioxidant) Has great antioxidant power
Reducing greenhouse freckles and dark spots
Destroy viruses and bacteria
Inhibits the growth of a cold virus
Inflammation of body
Relieve Allergy Symptoms
Resistance to DNA damage
Help against inflammation of the liver and bile
Accelerate the toxins from the body
The liver can break down fat excreted by the digestive system
The liver synthesis of glutathione more
Tighten pores
Reducing damage from radiation UV
Driving heavy metals from the body, such as mercury, arsenic, lead
Reduce the incidence of psoriasis
Revitalize the skin quickly
Prevents premature aging of cells
Acts as an anti-wrinkle treatment
Hydrates skin to prevent dryness
Improves the appearance of hair & nails
Has skin and wound healing properties
Has sunscreen effect
Supports the skin's elasticity and firmness
Conditions the skin making it look smooth and healthy
Strengthens blood vessels
Promotes anti-aging keeping the skin wrinkle-free and fully hydrated
Aids in the production of healthier hair and nails
Restores energy & vitality
Promotes good mood & fights stress
May ease anxiety or depression
Boosts immunity
Liver protection
Improves brain function, concentration, & memory
Protection from inflammation, bacteria, virus & germs
Combats cholesterol
Controls Diabetes & blood sugar
Strengthens bones & prevents osteoporosis
Adapts to the needs of the body
Servings Per Bottle: 33
500 ml are enough for about 16 days.
Recommendations for use: Shake well before use. Drink 2 cups per day (supplied 15ml) before bedtime. Has a pleasant taste (berry aroma) and can be taken undiluted. The bottle does not need to be stored in the fridge, but the drink tastes even better chilled.
Minimum intake: For best results, we recommended that you take for at least 60 days and preferably 90 days.
Cautions:
Dietary supplements are no substitute for a varied and balanced diet as well as a healthy lifestyle.
Store food supplements out of the reach of small children.
Please keep cool and dry.
The recommended daily dose should not be exceeded.