Neoretin Discrom Control Skin Whitening Lightening Peel Pads, 6ml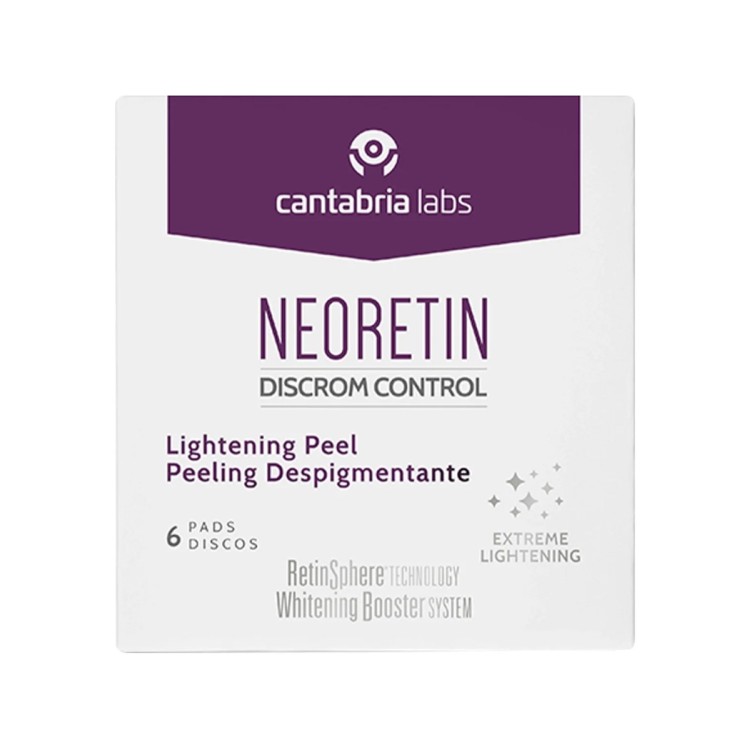 VISIBLY LIGHTENS THE SKIN AND UNIFIES THE COMPLEXION

GET THE GLOW WITH A POWERFUL PIGMENT CONTROL!
Neoretin Discrom Control Skin Whitening/Skin Lightening Peel Pads is the new miracle weapon in the fight against hyperpigmentation. By combining two innovative technologies, RetinSphere Technology and Whitening Booster System, Neoretin achieves maximum effectiveness with maximum tolerability. Highly effective and very well tolerated peeling system for a smooth, even and radiant skin. To support all depigmenting treatments. Creates smooth and bright skin by intensive whitening and anti-wrinkle formula. Effectiveness clinically proven!
The genuine concentration of natural anti-melanin skin whitening ingredients also prevents skin aging, pigment spots, and acne break-out for a silky, smooth finish! Evenly whitens skin tone while blocking the epidermic biosynthesis of pigmentation. Stimulates cell regeneration and delays the skin aging process. Intensively moisturizes the skin. Effectively lightens darks spots, acne spots, freckles, age spots, dark areas, blemishes and other discolorations. Contains the latest and most powerful all natural skin whitening ingredients that whitens dark spots, lightens acne scars and clarifies uneven pigmentation for that spotless white, beautiful skin!
Concentrated pad with powerful skin whitening ingredients carry out an intensive peeling and skin whitening activity. The exfoliating agents and innovative rough-textured disk help remove dead cells from the surface of the skin, lightening spots, stimulating cell renewal and enhancing penetration of lightening actives.
Aqua; Propylene Glycol; Alcohol Denat.; Bis-PEG-12 Dimethicone; PEG-7 Glyceryl Cocotte; Glycolic Acid; Shikimic Acid; Niacinamide; 3-O-Ethyl Ascorbic Acid; Citric Acid; Salicylic Acid; Sodium Hydroxide; Arginine; Retinol; Kojic Acid; Bakuchiol; Diglucosyl Gallic Acid; Trehalose; Protease; Lysozyme; Punica Granatu Extract; Hydroxyethyl Acrylate/Sodium Acryloyldimethyl Taurate Copolymer; Polysorbate 20; Isohexadecane; Sorbitol; Tetrasodium EDTA; Polysorbate 60; Lecithin; Xanthan Gum; GHT; GHA; Parfum.
MAXIMUM EFFECTIVENESS & MAXIMUM COMPATIBILITY
* 1.1% RetinSphere Technology
peels and inhibits tyrosinase synthesis
* 14% peeling ingredients
5% glycolic acid
5% shikimic acid (extracted from star anise)
2% citric acid
2% salicylic acid
* 8% lightening ingredients
3% kojic acid
3% niacinamide
2% vitamin C
Lightening/Skin Whitening (Whitens complexion)

Clearer Complexion (Treats Acne and Blemishes)

Anti-aging

More Uniform Complexion (Dissolves clogged pores)

More Moisturized (Moisturizes)

Smoother Skin (Removes and prevents skin aging)

Balances oil production on the skin

Skin Whitening, Anti-aging

Removes and prevents skin aging

Moisturizes, UV Protection

Dissolves clogged pores

Treats acne and blemishes

Balances oil production on the skin

Let your skin be nourished and rejuvenated

Formulated for use on darker skin tones
Unless otherwise advised, apply to the face once a week in the evening. Gently massaging with a circular movement over the skin for one minute to remove dead cells and facilitate penetration of other ingredients. If tolerated, let it work overnight and rinse with plenty of warm water the next morning. For more sensitive skin, shorten the exposure time.
Tip: After your application, apply the Neoretin Discom Control Gelcream and the Neoretin Discom Serum for optimal whitening results.
Caution: Avoid contact with eyes and mucous membranes. A mild temporary stinging may occur during initial applications. Should irritation persist, discontinue use. Do not apply on open wounds or inflamed areas. Apply sun protection before going outdoors in order to minimize the risk of sun sensitivity.